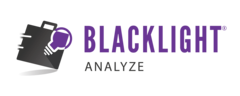 BlackBag BlackLight
SKU: S9301

Forensic examiners around the globe use BlackBag BlackLight software to search, filter, analyze, and report on data acquired from computer volumes, mobile devices, and physical memory.
Built to run on Windows and Mac OS X platforms. Analyzes data from Windows, OSX, iOS, and Android devices via a single user interface.
Each new BlackLight license purchase includes one-year Software Maintenance Support (SMS).
Look for similar items