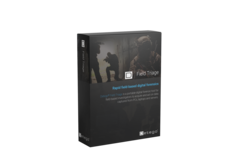 Detego Covert
SKU: S3008

Made for undercover operations, Detego® Covert is a portable exploitation tool that discretely acquires passwords, system information, files, internet artifacts, deleted data and even a complete forensic copy of the target device.
Features and benefits include:
Acquire intelligence at sensitive sites: Covert is used by elite police units and special forces worldwide, to quickly and discretely acquire evidence
Low training burden: With limited training, non-technical operatives can be equiped with a tool capable of acquiring instant, actionable intelligence.
Full portable: Covert software is licensed to a removable USB device, creating a highly portable, pocket sized investigative tool
Detego® Covert is an add-on module to Detego® Field Triage.

Standard license is one-year including SMS. Two and three year license options are available.