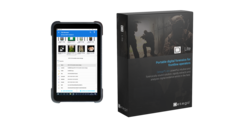 Detego Lite
SKU: S3003

Detego® Lite is a portable, powerful and forensically sound solution to extract and analyze digital evidence while in the field rapidly.
Key features include:
Forensically exploit, extract, analyze, and report against multiple media types including mobile phones, tablets, SD and microSD cards, camera cards, USB devices, as well as SATA and IDE hard drives
Run multiple extractions against multiple device types simultaneouslsy -- on scene or in the lab
Simple, easy to use two-click forensic imaging process.
Supports logical acquisitions
Acquires deleted data
Deployed on small form factor device for convenient field use
Runs on ios and android devices, supplied separately. One-year license including SMS. Two and three year licenses are available.

Detego® Lite software for ios and android devices. Portable forensics application that can be used in the field or lab to extract, analyze, and report data from multiple media formats, including:
Phones
Tablets
SD and MicroSD cards
Various Camera cards
USB devices
Hard drives

This software solution runs on ios or android devices, supplied separately.

Look for similar items