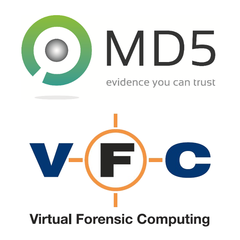 MD5 Virtual Forensic Computing (VFC+) v6 - Law Enforcement / Government
SKU: S8202

MD5 Virtual Forensic Computing (VFC+) software creates a virtual environment of suspect computer for digital forensic investigations. Software is licensed as an annual subscription. Renewable annually. Physical dongle is required for license activation and use. Software is available for download from MD5.
Includes support and manufacturer issued updates during subscription. Law enforcement and government user pricing.

Software subscription, downloadable from MD5. License dongle required, ships from MD5 to customer.

VFC+ removes the guesswork from virtualization and allows the investigator to focus on the investigation. Experience the original computer environment without compromising any original data.
Access all settings, multiple profiles, hidden files, jump lists, internet history, all applications, and restore points. Take screenshots as necessary. Using MD5's VFC you can bypass passwords, convert windows live accounts to local, create and boot a VM in seconds, create a standalone copy, test malware, and more.
Use VFC+ to triage, in court, during interviews, and in the field.

Look for similar items