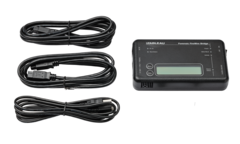 FireWire Bundle for UltraKit v5
SKU: W2820

The UltraBlock Firewire Bridge has gone end-of-life and is not available for purchase.
This product has been replaced by a Firewire adapter kit (A1530 or A1645) for use with UltraBlock PCIe and Tableau PCIe products.

UltraBlock FireWire Bundle for Ultra Kits

The UltraBlock FireWire Bundle is an optional kit that adds FireWire and Mac target mode forensic imaging capability to Digital Intelligence Ultra Kits. Designed as an (optional) add on to the UltraKit v5, UltraKit v5 + TD2u, and UltraKit v5 + TX1, this bundle is also compatible with previous generation Ultra Kits.
The UltraBlock Firewire Forensic FireWire Bridge is the Forensic Industry's first portable FireWire write-blocker. The UltraBlock Firewire features FireWire 800/400 and USB host connections, an integrated LCD, and six LEDs for visual status. Intelligent and efficient to use, this write-blocker deserves a place in your forensic toolkit.
The UltraBlock Firewire solves the growing challenge of imaging FireWire hard drives and Apple Macintosh® computer systems in a forensically sound manner. Built with similar operational features as our popular UltraBlock USB bridge, the UltraBlock Firewire enables reliable and efficient data acquisition in both field and lab environments.
The UltraBlock Firewire Bundle for UltraKit Includes
UltraBlock Firewire Forensic Bridge
FireWire800 9-pin Host Cable
FireWire800 9-pin Device Cable
USB2.0 Host Cable
Connectors: Host (Left) Side



FireWire


One 9-pin FireWire800 (1394B) connector

One USB mini-B (5-pin, USB 2.0 high/full/low speed)


DC Input

One 5-pin mini-DIN connector for use with the Tableau TP2 Power Supply

Switches



ON/OFF


Turns power ON/OFF to the UltraBlock FireWire and connected device

DIP Switch

The 4-position DIP switch configures user-selectable options tha are not required for normal operation. See the forensic bridge DIP switch configuration guide for more information

User Interface



LCD

2 row x 16 column monochrome LCD character display

Buttons

2 buttons: "Menu" and "Enter" for navigation

Other Features



Write-blocking

Write-blocking is permanently enabled in the UltraBlock FireWire

Status LEDs

6 LEDs: DC IN, Powers, Host Detect, Device Detect, Write Block (enabled), Activity

LCD Contrast Control

LCD contrast adjustment via externally accessible potentiometer

Compatibility



FireWire Device

FireWire devices must conform to the Serial Bus Protocol (SBP-2) specification

Host Interface

FireWire 800/400 or USB 2.0

Host OS


Microsoft Windows versions 7, 8, or 10

Macintosh OS X

Most modern Linus distributions (Note: Linus distributions have varying levels and quality of support for USB 3.0)


Physical / Environment



Power

3.8 watts typical operating (not including FireWire device)

Supply Voltage (DC IN)

+5VDC@2A, +12VDC@2A (includes budget for FireWire device)

Ourput Voltage (DC Out)

+12VDC@1.0A (max)

Dimensions

5.625 in (L) x 3.25 in (W) x 1.1.25 in. (H)

Weight

6.3 oz (179g)

Operating Temperature

0 to 55 degress C (no airflow)

Storage Temperature

-40 to 70 degrees C

Relative Humidity

Up to 90 % (non-condensing)

Acquire Data from Firewire Storage and Apple Macintosh Computers
Imaging FireWire storage devices, including Apple Macintosh® computers, has always presented a special challenge to forensic examiners. The UltraBlock Firewire supports full multi-LUN (Logical Unit Number) write-blocked acquisitions of FireWire storage devices (including Macintosh computers booted in target disk mode). The UltraBlock Firewire identifies multiple LUNs present and prompts the user to select the appropriate LUN for imaging. The ability to image without the need to remove hard drives means you will work faster, more effectively, and with less risk of damage to evidence.
Integrated LCD Operational Display
The UltraBlock Firewire LCD functions as the information center for storage device and write-blocker information. Using the two convenient operator buttons, the user progresses through a variety of menu displays to view vital information. The monochrome LCD features 2 rows of 16 characters that are used to display status information, detailed technical information obtained from the attached FireWire device, as well as key information about the UltraBlock Firewire bridge itself.
Notes:

UltraBlock Firewire performance is heavily dependent on block size and works best when used with an imaging application which can be configured for 128 kByte blocks.
The UltraBlock Power Supply may only be used to power one UltraBlock and one Hard Drive. Do not attempt to use a single external power supply to power more than one UltraBlock and Hard Drive.
Additional FireWire-A (400), FireWire-B (800), and USB Cables are available from Digital Intelligence.
Frequently purchased with this product
Look for similar items