FREDC Forensic Data Center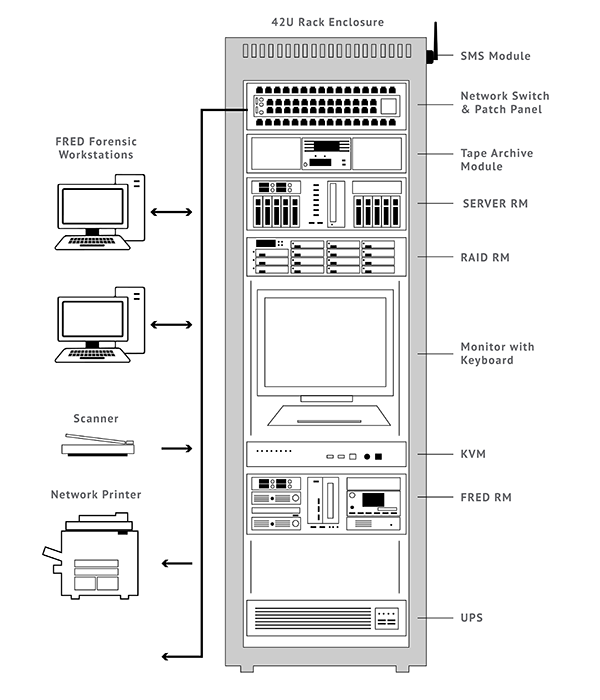 The FREDC Data Center is a purpose-built, high-performing departmental forensic server. With over 100 installations world-wide, FREDC is a proven solution for departmental forensic acquisition, analysis, case management, evidence storage and data archival needs.
The FREDC Forensic Data Center is the core infrastructure of a high-performance Forensic Network. Visit our Forensic Networks solutions page to learn how Forensic Networks help corporations, law enforcement and law firms manage their forensic and eDiscovery workloads. Learn more
FREDC Data Centers function as a digital forensic data server and complete forensic network infrastructure. The heart of each FREDC is a SERVER-RM module, powered by an Intel Xeon W5-3435X 16 core processor. 128 GB DDR5 4800 GHz ECC memory and 100 TB of internal RAID storage are standard. Please check with us if you are interested in CPU or RAM upgrades. Our experience shows that the base SERVER-RM specs are more than sufficient to handle your forensic network.
Each FREDC Server-RM comes standard with a ten (10) drive, 100 TB internal RAID array for operating system, workstation images and other internal data storage needs. Base FREDC systems include a twenty-four (24) 10 TB RAID-RM module with 240 TB RAW capacity for digital evidence storage. To increase storage capacity within a single RAID-RM module, larger hard drive are available. As storage needs grow, additional RAID-RM modules can be easily added.
FREDC Data Centers achieve extremely fast data transfers via an Intel quad port 10 GB network connection, providing 40 GB of throughput. By design, FREDC's are perfect systems for direct to network forensic imaging.
The FREDC SERVER-RM's operating system is OpenSUSE Enterprise Server Linux, optimized by Digital Intelligence for incredible performance and near-zero system administration. With a FREDC Data Center, you avoid the headaches, upgrades, and higher support cost that come with traditional Windows data server environments.