FREDC Forensic Data Center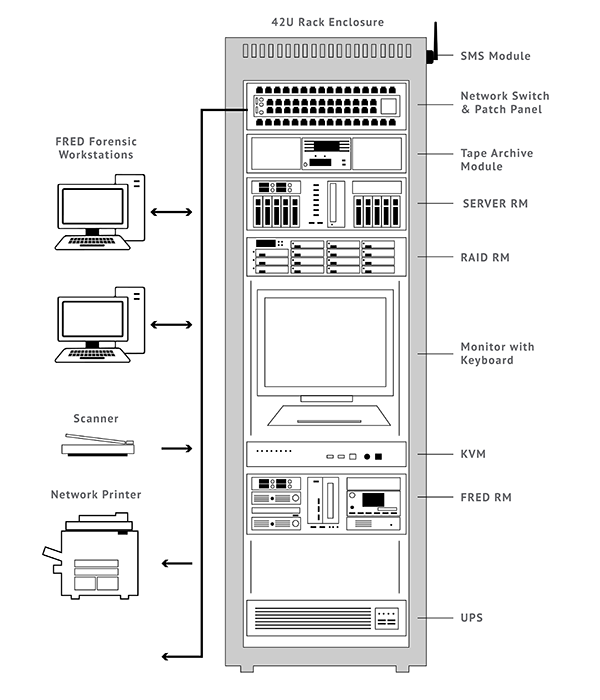 The FREDC Data Center is a purpose-built, high-performing departmental forensic server. With over 100 installations world-wide, FREDC is a proven, one-of-kind solution for departmental forensic acquisition, analysis, case management, evidence storage and data archival needs.
The FREDC Forensic Data Center is the core of a high-performance Forensic Network. Visit our Forensic Networks solutions page to learn how Forensic Networks help corporations, law enforcement and law firms to manage their forensic and eDiscovery workloads. Learn more
FREDC Data Centers function as a digital forensic data server and complete forensic network infrastructure. The heart of each FREDC is a SERVER-RM module, powered by Intel Dual Xeon E5-2620 processors, with 8 cores per cpu. SERVER-RM upgrades of 10, 14, 18, and 24 cores per cpu are available. Standard memory is 128 GB DDR4, with available upgrades to 256, 512, 768 GB.
Each FREDC Server-RM comes standard with a ten drive internal RAID array for operating system, workstation images and other data storage needs. FREDC systems also include a sixteen drive RAID-RM module for digital evidence storage. As evidence storage needs grow, additional RAID-RM modules can be added. RAID6 fault tolerance is standard. Other RAID striping is supported. FREDC Data Centers achieve extremely fast data transfers with dual 10 Gb ethernet networks, standard with FREDC installations.
The FREDC SERVER-RM's operating system is OpenSUSE Linux, optimized by Digital Intelligence for incredible performance and near-zero system administration. With a FREDC Data Center, you avoid the headaches, upgrades, and higher support cost that come with traditional Windows data server environments.