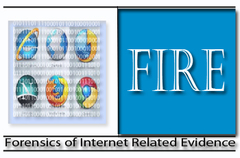 FIRE - Forensics of Internet Related Evidence
SKU: B2300

This 2 day class is designed to familiarize the student with the many artifacts left behind on Windows based media and mobile devices from the most popular Internet browsers and Email applications. The course will advance the skill set of forensic examiners by focusing on internet artifacts and email analysis.
Completing this course will enable forensic examiners to:
Understand the states of the World Wide Web
Understand the nature of TCP/IP, DNS, DHCP, and communications ports
Identify and understand the various forensic artifacts left by common internet browsers and email applications

FIRE is offered as an on-line course only.

Look for similar items