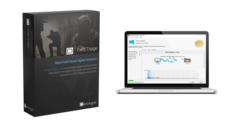 Detego Field Triage
SKU: S3005

Detego® Field Triage is a portable digital forensic tool designed for field-use to acquire and act on data extracted from PC's, laptops, and servers. Excellent for field preview of suspect data.

This software is deployed onto a removable storage device or external hard drive, placing an incredibly powerful exploitation tool into the hands of non-technical investigators.

The intuitive triage functionality within this tool automatically alerts the user of any suspicious items through a red, amber, green status alert. This visual confirmation allows the user to determine the severity of the content or activity contained on the device and determine whether further investigation or arrest is necessary.
Key features include:
Easy-To-Use Deployment: License the Detego® Field Triage to a USB or external hard drive for a portable, pocket-sized acquisition tool perfect for front-line agents.
Instant Intel: Intuitive triaging automatically alerts the user to the presence of illicit material on a target device.
Live Triage: Receive valuable insights at the scene by viewing the live data during acquisition.
Rapid Acquisitions: Conduct a full digital extraction, including password, RAM, system information and internet artifacts, in seconds at the click of a button.
Custom Search Profiles: Configure bespoke profiles to suit the objectives of your investigations and use multiple profiles for different operations.

Available as one, two, and three year license purchases.

Detego® Field Triage software, one-year license includes SMS.

Look for similar items