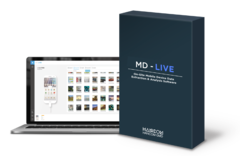 Hancom MD-Live
SKU: S3010

Hancom MD-Live is mobile forensic software for performing live on-scene extraction and analysis of mobile devices.
The MD-Live supports logical extractions and quick data analysis. Easy to learn and use, MD-Live supports selective acquisition without privacy infringement, screen captures / recording of smartphone display mirrored, and forensic process recording by an external camera of the internal recording feature.
Key features include:
Mobile forensic software for on-scene investigation and triage
Ideal forensic tool for the smartphone of witnesses or victim(s)
Selective acquisition of evidence data for privacy protection
Recording and capturing of mirrored smartphone display
Screen recording for audit or justification of the forensic process
Convenient and straightforward usage with an intuitive user interface
Minimize work time with automated steps using a high-speed analysis engine
One-year license, renewable annually.

Look for similar items