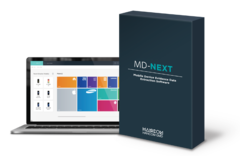 Hancom MD-Next
SKU: S3011

Hancom MD-NEXT is data extraction software for mobile and digital devices including smartphones, feature phones, drones, smart TVs, wearables, IoT devices, USIM cards, SD cards, JTAG boards, and chip-off memory.
MD-NEXT supports physical and logical extraction methods for Android, iOS, Windows OS, Tizen OS, and other mobile OS.
Key features include:
Data extraction from 15,000+ Smartphones, Feature phones, IoT devices, Smart TVs, Drones, Chip-off memory and JTAG boards
Powerful extraction tool for Asian manufactured devices – Samsung, LG, & other Chinese brands.
Supports all physical extraction methods – Bootloader, Fastboot, MTK, QEDL, Custom image, ADB Pro, iOS Physical, DL, JTAG, Chip-off, SD Card, SIM, Removable Media.
Supports all logical extraction – Filesystem, Android backup, iOS Backup, Vendor backup protocol, Local backup, MTP.
Unlock of latest Samsung and Chinese phones – Oppo, Vivo, Huawei, Xiaomi.
iOS backup file decryption and keychain extraction.
Selective extraction of partition, file, category, and app.

Available as one-year subscription, renewable annually. SMS included in year one.

Look for similar items