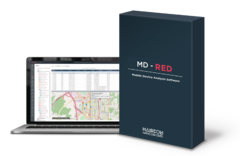 Hancom MD-Red
SKU: S3012

Hancom MD-RED software recovers, decodes, decrypts, visualizes, and reports on evidence data acquired from mobile and other digital devices.
MD-RED reads evidence data extracted using MD-NEXT or other extraction tools. Export the results of the analysis as forensic reports for additional investigation.
Key features include:
Analysis and recovery of various filesystem and 1,500+ apps
Decrypt the encrypted SNS message
Quick update on new app versions
Social relation analysis
Drone and IoT data analysis
Visualization of the analysis result
Python editor for the development of analysis script
One-year software license. Renewable annually.

Look for similar items