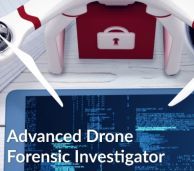 Advanced Drone Forensic Analysis
SKU: B2803

This three-day course will equip you with the practical skills and accreditation required to identify and extract sources of data available from drones and their associated mobile devices, in line with recognized best practice.
The course will teach investigators and forensic examiners workflows and best practices in the recovery and analysis of small unmanned aircraft systems (sUAS) – Drones. Delegates of the course will learn new skills in capturing data from the aircraft, it's controller and mobile application in a none invasive or destructive process.
Combining leading research from Spyder Forensics and recognized international universities, this course will also accredit you with the skills necessary to forensically conduct extractions from all devices and perform analysis of flight data for use as intelligence or as evidence to support the conviction of illegal use.
Look for similar items