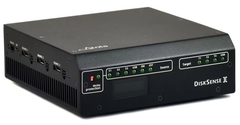 Atola Insight Forensic Systems with DiskSense 2 Unit
SKU: D3001

The Atola Insight Forensic system with the DiskSense 2 hardware is a high-speed forensic imaging and data recovery system with a simple, easy to use, and efficient user interface.
Insight is designed to support retrieving data from damaged storage media. Where other forensic images stall or abort on damaged media, the Insight Forensic can often acquire a usable image. When acquiring data from non-damaged media, the Insight Forensic is a very-fast, forensic imaging device.
The Insight Forensic system is comprised of the DiskSense 2 hardware unit and the Atola Insight Forensic software (runs on any Windows PC or laptop). Physical device extensions (optional) are available to acquire data from Apple macs, M.2 flash drives, Thunderbolt 2/3 & FireWire 800, and SAS devices. A 10 Gbit ethernet extension is also available.
The system has several key features for data capture in forensic and e-discovery cases:
Fast forensic imaging speed up to 500 MB/s
High performance multi-pass imaging for damaged drives
In-depth Automatic HDD diagnostics
Extraction of unknown ATA Passwords
Case management system prepares acquisition reports automatically
Hash calculation: MD5, SHA1, SHA224, SHA256, SHA384, SHA512
Forensic data erasure methods including DoD 5220.22-M, Secure Erase, NIST 800-88, Pattern Erase
File recovery for NTFS, APFS (with encrypted volumes), Ext 2/3/4, HFS, HFS+, ExFAT, FAT16, FAT32
Support for SATA, IDE, SAS, USB media
Support for Apple PCIe (2013 - recent models) and M.2 PCIe SSDs via Atola extension modules
Built-in write blocker
Optional 10Gb Ethernet via extension modules

Built for digital forensics and eDiscovery practitioners. Additional detailed information can be found in the Insight DiskSense 2 User Manual.

The InSight Forensic package includes:
DiskSense 2 unit
Power supply
SATA cables (7)

IDE adapter

USB-C cable

IDE power cable
IDE interface cable
RS-232 serial cable
Cat 7 Ethernet cable
USB3 to Ethernet adapter
Flash card reader
Physical


Aluminum case

7.9" x 7.9" x 2.6" (190 x 190 x 63 mm)

3.3 lbs (1.5 kg)

Operating temp: 0C > -50C (32F > -122F)

2 built-in 10Gb Ethernet ports

Write protection switch for source ports

IP address display


Source








Target


Other


SATA III (3), USB 3.2 (1) IDE (1, adapter)


Extensions: SAS, Thunderbolt, Apple PCIe SSD, M.2 PCIe / SATA SSD

3 SATA III

1 USB 3.2

Serial RS232


Operational


Visual LEDs (all ports) and audible buzzer

Interal OS: Linux custom kernel

Control interface: Atola Insight Forensic (Windows app)

Hard drive support: SATA I/II/III, USB 1.0/2.0/3.X, IDE

Interface support via extension modules: SAS, NVMe, Apple PCIe, FireWire, Thunderbolt 2/3

Flash card support via USB attached card reader

Power


Consumption: 60W avg, 280W peak

Supply: 100-240 VAC, 50-60 Hz

Look for similar items